As I've tried to point out in the last couple of postings, migration is a difficult time for birds. Mortality is high especially with estimates as high as 80% of young (Hatch Year) songbirds don't survive their first year. I just finished a paper whose authors studied populations of Black-throated Blue Warblers both on their breeding grounds and in their wintering grounds. As the birds stay in place once they reach these areas they are referred to as their "stationary periods". The authors noted that "apparent mortality rates were at least [italics mine] 15 times higher during migration compared to that in stationary periods and more than 85% of apparent mortality in [Black-throated Blue Warblers] occurred during migration." And similar findings could be made for most songbirds.
Still, every Spring colourful migrants show up speeding their way to nesting grounds. So some are successful. For these birds everything fell into place: good nutrition at the right times; predator avoidance; sustaining and restorative resting/feeding areas on route; good weather and helpful winds; a patch of desired habitat when they made it home.
Sometimes birds do the right thing, elements are falling into place and they should be successful but meet with…how else can I describe it…simply, bad luck.
I have been aboard the CCGS Hudson for the past month doing AZMP surveys in the lower St. Lawrence River and Gulf of St. Lawrence. [AZMP stands for Atlantic Zone Monitoring Program and consists of comprehensive oceanographic surveys in the Canadian Atlantic.] We were just finishing our area – the Quebec Zone (there are a number of zones in Canadian waters) – and were about to enter the bay surrounding Sydney, Nova Scotia when we "got the call": there was a vessel in distress about 250 nautical miles (NM) out in the open Atlantic SE of Newfoundland.
The Hudson wears two hats: it's a research platform for Oceanography (Beford Institute of Oceanography, Department of Fisheries and Oceans, and several others) and it's a coast guard vessel with SAR (Search and Rescue) responsibilities. SAR takes precedence over research. As soon as we got the call the vessel made a hard turn to port and we were headed offshore steaming at 14 knots, pounding into 4-6 meter waves. [I still did my counting but it's awfully hard to see birds through salt spray pelting the windows.] Just after midnight we came up with the ship – Fishin Fionnatic (pronounced Fanatic) – a small (15 m.) fishing boat that had been hit by a "rogue" wave and had its port side windows stove in. The crew had been able to clear the lower decks of water and it was able to putt along under its own steam at a steady 7 knots. Even so, we escorted it all the way into Canso. That was bad luck. But the boat wasn't migrating….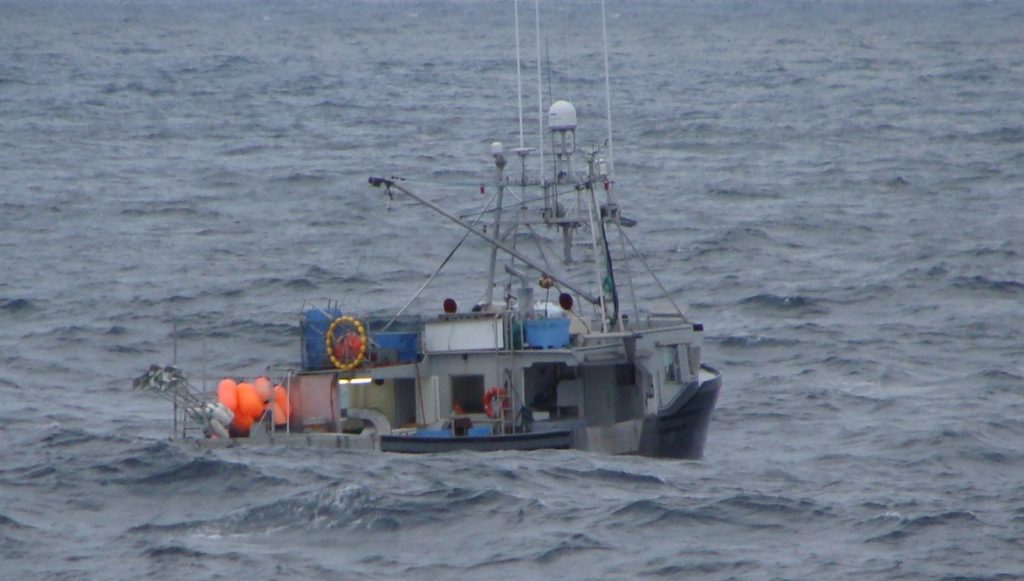 However, when we were still 73 nautical miles east of Canso I watched a BALTIMORE ORIOLE fly onto the ship from over open water. It stayed on the vessel, hunkered down under some machinery, obviously resting, head back under its wing. Shortly before it got dark, when we were still 23 NM from shore, I saw it fly toward the back of the ship but never saw it again after that. I didn't find it on the deck the next morning. So it likely flew away from the ship…whether it was successful reaching shore I can't say. But, to me, this was a case of a migrant (orioles winter in Central America) running into some bad luck. There had been a big storm, a low pressure system with counter-clockwise winds, on the eastern seaboard of the U.S. I'm guessing (but am pretty sure) that this bird got caught up in the storm as it was flying south and was sucked up and blown well to the north before it found our "island". Just another of the trials that migrating birds must endure. And with the climate changing as it is, birds will be experiencing more of them.